24 Hour Run
What is it?
The 24-hours run is probably the most well-known and most popular classic in student sport. This raley race between the students' guilds, student's lodgings and colleges of Leuven, that all try to run as many rounds as possible at Sportkot's running track within 24 hours, is opened October 23 at 8 p.m. From that moment, you can, beside running a couple of rounds, also enjoy the wonderful food, prepared by the archi's of Existenz, and admire our amazingly beautiful booth. And last but not least, you will be immersed in the nice atmosphere that accompanies the 24-hours run each year, that is, although sometimes a little hostile, always very amusing!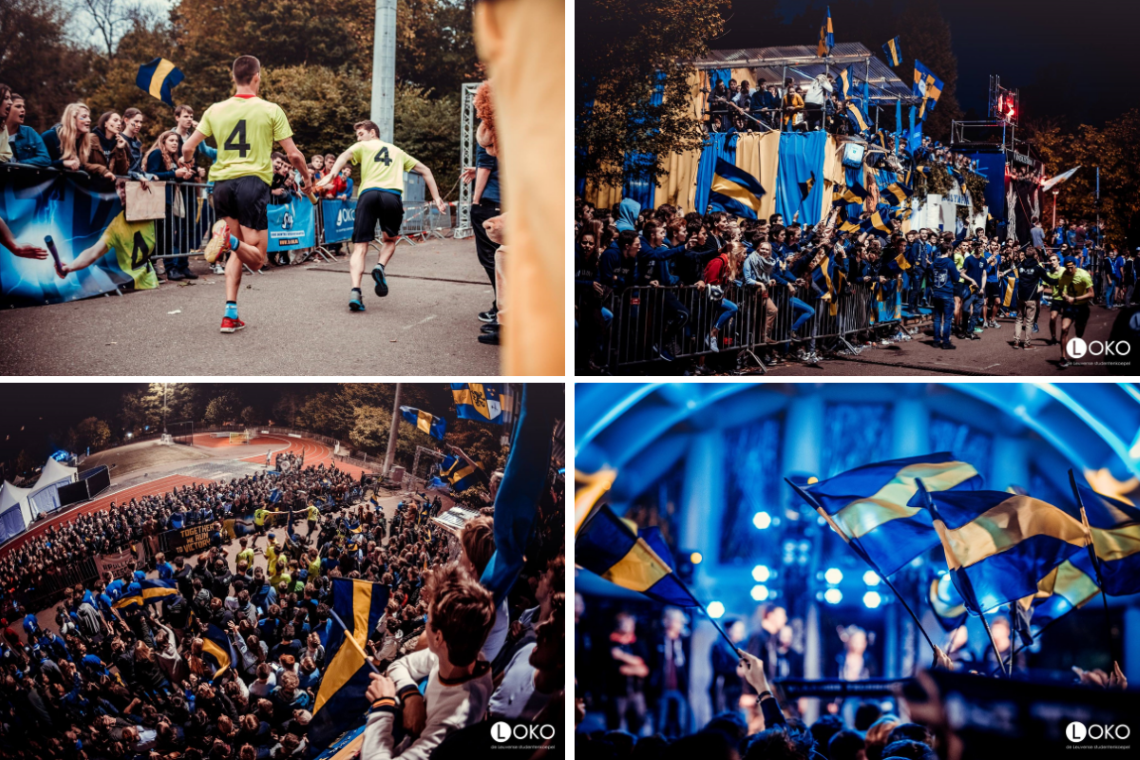 ---
We want to win again!
As a top team like VTK, we go for nothing less than the victory every year. After our fantastic victory last year, we are going to do everything we can to win again! We ran a great number of 1061 laps last year which was also a new record! This year we go for at least as many laps. Winning two times in a row for VTK, it is something that has not been done since the year '89! So be sure to join this legendary moment with us and run / support us to victory! Let there be no doubt, Apolloon is going down!
---
Running sessions
To stay competitive with the Apollonians, it is important the everybody runs the well known lap of 530m within a time of 1'30''. We want to help you to become faster and improve your indurance! (So your chance increases to win a nice price ;) ) Our training schedule is made bij Marc Herremans (http://en.wikipedia.org/wiki/Marc_Herremans). This varied schedule is the ideal way to get ready for the big competition. If you come to the training, you will get every training a free drink and maybe you can join the speedy team! Therefore your time will be measured every training sessions (if you want so). When ? 8:30 p.m. every day starting 27 september (except friday and weekends) Where ? Entrance of the running track @ building the Nayer
---
Speedyteam
Our speedyteam is the 'elite' team of VTK. We want to gather our best runners in 1 team to make the difference. If you want to join this team, come to one of our trainings and show your speed to us. You should be able to run 530m in less than 1.25min. Every member of this team gets an exclusive t-shirt! So feel free to join us!
---
Gadgets
Obviously we want to reward our runners.
From two laps on you will receive a food voucher. At five laps you'll get a gagdet (yet to be decided which one). Those able to run nine laps or more will be rewarded with a unique running shirt which they can wear with pride all year long.
This year's gadgets can be found in the "Prizes 24 hours run" tab!
---
Groups of friends
You can sign up with a group of five friends to win prizes. By running laps in a certain time you can earn points. You can pick two shifts of three hours during which your team's points will be counted double. Points earned during shifts within the 2:00-11:00 a.m. period will even be counted triple. When VTK is having a hard time, points earned are also counted double. The teams with the most points will be awarded with prizes. You can sign up here: https://www.vtk.be/run/group/
Prizes:
This year's prizers can be found in the "Prizes 24 hours run" tab!
---
Points system
You will earn points for every lap you run under 1:29. The rule is: "The faster you run, the more points you earn". Earning more points will increase your chances at winning prizes. This system counts for groups of friends and individual runners (see 'tombola' below) and works as follows:
<1:29 1 point; <1:27 3 points; <1:25 4 points; <1:22 6 points; <1:19 8 points; <1:15 10 points;
Tombola
You can also win awesome prizes individually! Your chances at winning increase when earning more points.. You can sign up here: https://www.vtk.be/nl/run/tombola/
Prizes:
This year's prizes can be found in the "Prizes 24 hours run" tab!